Latest News & Info
Is Water The Key To Weight-Loss?
Water may be the secret to weight-loss, according to new research.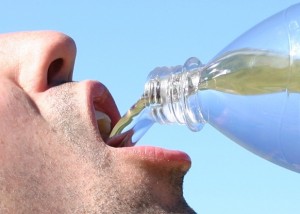 Dr Tammy Chang, an assistant professor in the department of family medicine at the University of Michigan's Medical School, and her colleagues studied a nationally representative sample of 9,528 adults from the Centers for Disease Control and Prevention's (CDC) National Health and Nutrition Examination Survery (NHANES).
They found that those with a high BMI and obese people are more likely to be dehydrated, compared to slimmer people who are more likely to be well hydrated.
Roughly one in three of the adults, who were aged 18 to 64, were found to be inadequately hydrated.
Dr Tammy Chang said: 'The link between hydration and weight is not clear.
Our study further explains this relationship on a population level using an objective measure of hydration.
We often hear recommendations that drinking water is a way to avoid overeating because you may be thirsty rather than hungry.
Hydration may be overlooked in adult weight management strategies.
Our findings suggest that hydration may deserve more attention when thinking about addressing obesity on a population level.
Staying hydrated is good for you no matter what, and our study suggests it may also be linked to maintaining a healthy weight.'
To read more about the study, CLICK HERE.
If you are overweight (BMI 28 or over), tried dieting and excerise
but still haven't had success in losing weight– please go to www.ukmeds4u.com for a free private online consultation for other weightloss options.